Post by justkevin on Aug 27, 2020 18:19:14 GMT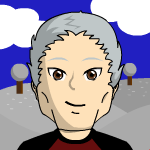 Indeed, and my opinion still holds.
RM Well, no one is compelling you to apply the test. There's not going to be an exam at the end of the blog.
Read the post again. It's similar to an artist holding a painting or drawing upside down or looking at it in a mirror to emphasize problems in composition.
No it's not, but who on earth does that? I have seen many documentaries about artists, and none do that. The last one I watched was the astonishing Drew Struzan, and he never did that, or viewed his works in B&W. (At the end of that he had retired because the studios said they no longer needed him. "Poster art is not required now, and anyway we have Photoshop and have no need to pay you at least 20 grand." Shame).
RM Well, by golly. You haven't seen any artists doing those sorts of things in TV documentaries so it must not be so.
There are 100s of artists, famous or otherwise, who have featured in documentaries on TV, and there are even more on line, some dead and some still alive, although it's difficult to show how artists worked prior to the invention of film.
Well, I can assure you, from my 50 years of experience in the visual arts, that tests like these are done all the time.
What on earth for? What sort of artists are they? If it looks right, it is.
What thegolly technique of inverting a drawing or painting does is allow you to see your art more objectively. Problems in composition become much more apparent. Sometimes artists would look at their art through special lenses that inverted the image (handy when it was inconvenient to physically turn a painting over). I have known others who will look at their work in a mirror. Certainly not all artists do these things (I don't do it with every picture I do), but it's a very common, very useful tool and one worth drawing attention to.
www.finearttips.com/2012/12/struggling-with-your-painting-turn-it-upside-down/
It's not at all common, it speaks of uncertain minds, or perhaps they do it because you suggested it?

although I have to admit that some of my abstracts may look better upside down or even sidways!
In any event, anyone is welcome to post their attempts at cover design to the blog. In fact, I will be presenting specific problems as a challenge. All of these will be open to critique and suggestions. You are most welcome to participate!
I wonder why horrible book cover site, or whatever it is called, never also show a cover in B&W for comments?
RM Gee, given that you said that you've had some of your own covers appear on the site it does kind of surprise me that you don't recall it's name.
Well I did look at it quite a while ago once, it's not important enough to remember, like so much internet content. (And it's not the only such site, although many simply express an opinion which is not open to further comment).
In any case, numerous B&W covers have shown up on (take a note now) lousybookcovers.com For instance, this one appeared just a few weeks ago
lousybookcovers.com/wp-content/uploads/2020/08/exo-500x708.jpg
and one that was virtually B&W appeared just yesterday.
I am not talking about B&W covers created as B&W, but why do lousybookcovers not
also
show coloured covers in B&W to see if they are still readable? They don't because of the reasons I said.